The England Wales England, or EWE is a multi-day mountain bike race in the UK to be held in 2012. The plan is very close to the Tour Divide in the style of; the race is for the self-sufficient rider: No entry fee, No prizes, No marshals, No support, No stages. The race is planning to be held around June next year (2012) it also will be very good preparation for my Tour Divide in 2013. I am not saying that the EWE is going to be an easy race by any stretch of the imagination. But I'm planning to take part :) happy days.
The organizer
Aidan Harding
is a veteran at the Tour Divde and has decided that it's about time that we have a UK version of the the race.
The pre-planed route is going to be around 800 to 900 miles as the crow flies, but weaving around the country will make the route a lot longer Aidan is planning to take in some of the best trails in the UK. In my opinion the UK has some of the best and most varied riding that can be had.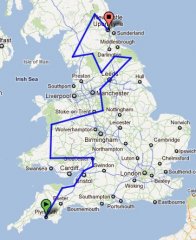 As soon as I have any more detail i'll let you know :)
Very exciting!